Manufacturer Pricing Updates
The following manufacturers have made adjustments to their current pricing.
The dates reflect the date of the announcement and the date the adjusted pricing will take effect.
---
---
---
Tools
Wallboard Calculator – National Gypsum
Use National Gypsum's Gypsum Board Calculator to quickly estimate the materials that you need for your next project, including sizing requirements.
---
Wallboard Estimator – USG
Use USG's sheetrock® wallboard estimator to estimate your panel coverage area and sizing requirements.
---
Drywall Selector – Continental Building Products
Find the right Bison Board™ solution. Enter your project requirements into the Continental Building Products SPEC CENTER™ to find the right Bison Board for the job.
---
Ceiling Materials Estimator – USG
Use this estimator tool from USG calculate the quantities of ceiling panels, molding and tees you'll need. Enter the room and panel sizes, and see results.
---
JM Corbond Spray Foam Resources
Learn about Johns Manville's complete line of spray polyurethane foam (SPF) insulation solutions with superior thermal energy efficiency, as well as advanced air and sound control.
---
USG Ceilings Q3 2022 Product Updates
Download this quarterly guide that includes USG Ceilings news on products, marketing programs, and upcoming releases.
---
ClarkDietrich – iTools
Architects and contractors can use ClarkDietrich iTools to evaluate purchasing decisions and assist in product selection for steel framing projects.
---
USG Q2 2022 Ceilings Catalog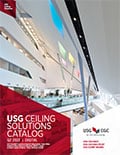 The catalog contains detailed product information along with installation resources and digital tools. Contractors and builders can use this resource to learn more about ceiling systems.
---